...passionate about pipes
---
Fudgit and Scarper are plumbers with a difference - we care.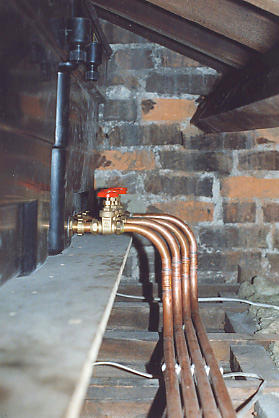 We specialise in pipe-fitting - so elegantly done and perfectly formed that you will want to keep it polished and have it on show in your bathroom or conservatory. We regard pipe-fitting as an art form - it should be aesthetically pleasing, sensuous even; the pipes in this picture are vaguely reminiscent of the sweeping chrome exhaust pipes of a 1930's Hollywood roadster.
We bend all of our pipes to the exact size, shape and fit required - no ugly fittings all over the place, no kinked pipes and no unsightly runs of solder dribbling out of soldered joints. Fewer joints and right-angle elbows means less friction and restriction to the water flow, meaning heating pumps can be operated at a lower speed with less noise and a longer life. And fewer joints means less chance of leaks!
We also specialise in period plumbing - iron pipework, old geysers and Victorian and Edwardian cast iron radiators . We're really passionate about these radiators - they last forever and owing to the huge surface area of cast iron column radiators, they put out enormous amounts of heat into the room. You can sit on them, dry out all sorts of things on top of them, they look great when imaginatively painted to match the room and your cat will love them too.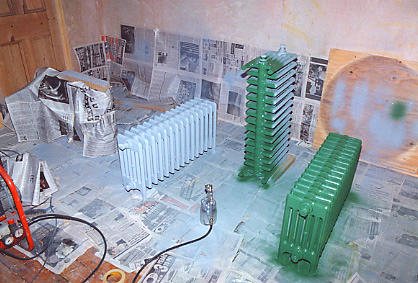 We do 'modern' plumbing too - general plumbing, sanitary & waste, drains, underground soil pipework, central heating and boilers. But here again Fudgit and Scarper are different - we specialise in unusual installations, the imaginative use of electronics, computer interfaces and even the Internet to provide heating control solutions for the 21st century.
Advice is given freely and we will help with central heating planning, sizing and unit selection.
This site is still under construction but coming soon are FAQs on heating, plumbing, drains and boilers. But in the meantime, why not call us if you have a problem?
---
Call Andy on 07866 556626 for more details or mail us.